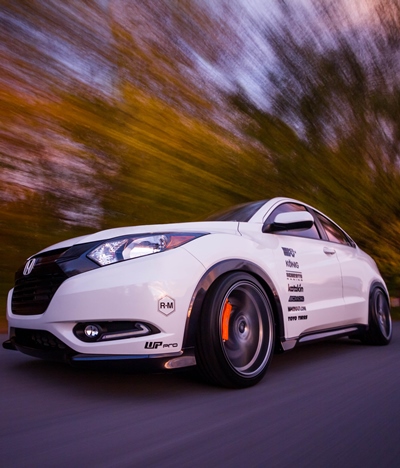 2016 Honda HR-V LX Sport by Fox Marketing
With only two-weeks to complete this build, creating daily driven street car was the focus. These modifications anyone can achieve quickly and very affordable. We choose the LX model because of its lighter chassis and additional 2" of headroom over the EX model. The vehicle owner is 6'8" and fits comfortable inside with plenty of knee/head room. The Platinum Certified Honda Technicians at Mugsy's Repair in York, PA. upgraded the engine first with a K&N Intake system, and cat-back Magnaflow exhaust system adding an additional +15wph. We also saw an addition of +2MPG after these simple engine modifications. Next, we addressed the outside of the vehicle by painting all the ABS plastic body kit with BASF R-M Browns Anthracite Paint and roof by Browns Auto Body Werkz, Mechanicsburg, PA. We added a direct fit replacement LED Fog Light Casing to the front fascia for added safety on the road. The interior was completely upgraded from the factory cloth to Katzkin Leather with DeegeZ heated and cooled for those cold North East winter months. Additional in the summer the 3M Cystalline 40 Window Tint blocks 97% of infrared heat from the vehicle. Furthermore, Schroth Racing Rallye Cross ASM 4-point street legal belts were added for those autocross events, and then snap out in seconds to store in the truck. Handling of the vehicle was next, the BC Suspension Coilovers are surprising comfortable with a 4.5" drop on 18x8 Konig Oversteer wheels wrapped with Toyo T1 Sport Tires. Behind the wheel and tire package is a massive yet innovative 13.3" WP Pro Brake Sawblade Rotor with a 6-piston caliper stopping the vehicle in its tracks.

May 2, 2015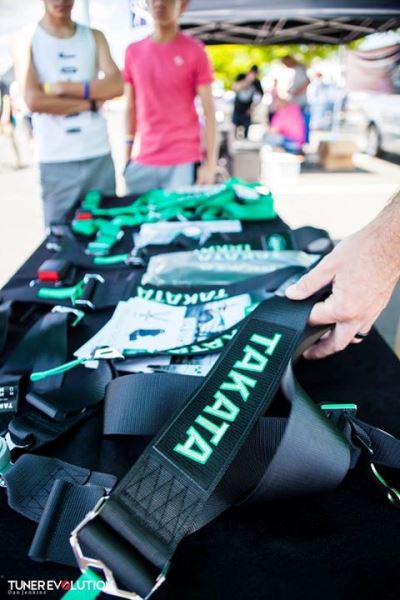 TAKATA Racing Booth at Panda Junction
Panda Junction is a huge car meet located at Ripken Stadium in Aberdeen, MD. which was held May 2 this year. Over 1,600 cars showed up and Brian was on hand manning the TAKATA Racing booth.

February 3, 2015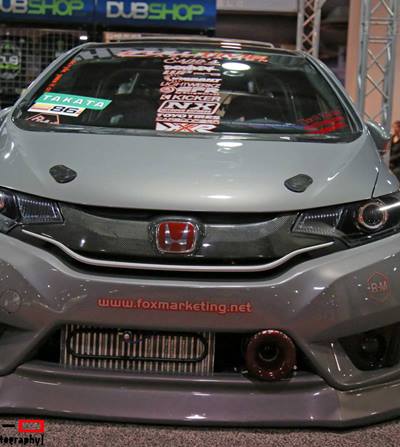 2015 Philly Auto Show - Turbo Honda Fit
For the past couple of years we have had the opportunity to have a booth space inside the DUB Section at the Philly Auto Show. This year was no different when we called Kenny Vinces to bring out his Fox Marketing backed 2015 Honda Fit for display. This car features many great products from TAKATA Racing, BASF R-M Diesel Smoke Paint, and powered by a Borg Warner EFR6258 Turbocharger. If you are in town check out this car and others.